We received great news from our nomination for DAME at METSTRADE 2017!
GHOOK has been listed as Special mention by the jury and was as such presented in Innovation Lab.
Big thank you to the jury and all the visitors.
See you next year!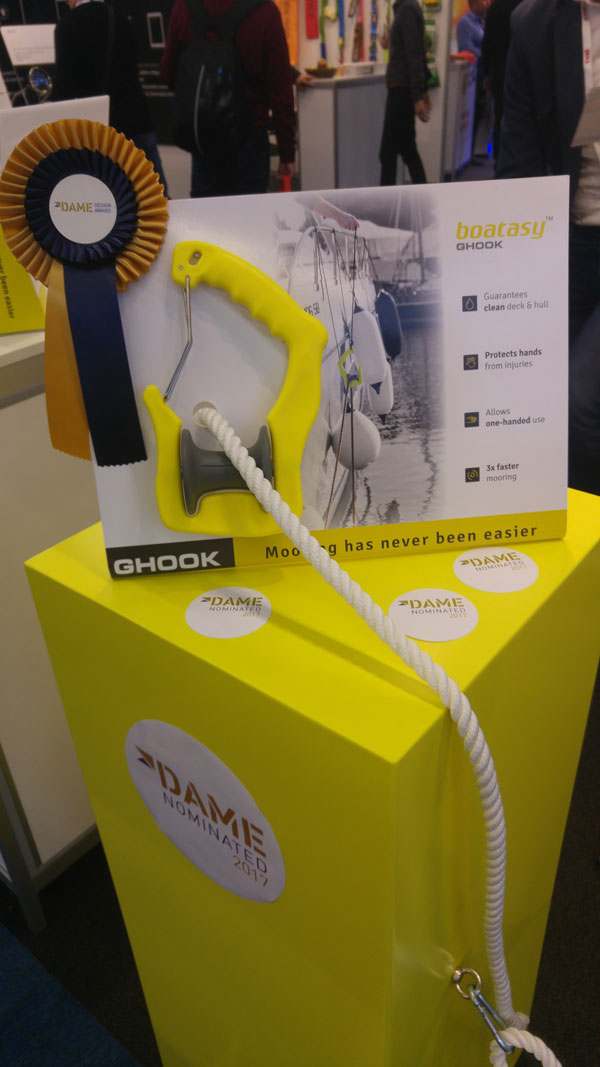 DAME DESIGN AWARD
The DAME Design Award is the largest marine competition of its kind, anywhere in the world. It focuses attention on the art and science of design in all aspects, from styling, functionality, and innovation, through to ease of implementation, practicality of use – and even packaging. Now in its 27th year, METSTRADE has continued to support and build this competition to highlight the critical role of design in retaining today's boat buyers and attracting the next generation.
Birgit Schnaase, Chairwoman of the Jury, presented the prestigious DAME Award 2017 of the METSTRADE Show to Scanstrut for its RS Venture Connect Conversion Kit.
The DAME competition is divided in seven categories, where one of the competitors becomes the overall winner of the DAME 2017. The competition is judged by top naval architects, boat, interior, and industrial designers and user experts.
This year's jury are as well experts in marine and broader industries :
B. Schnaase, Schnaase Interior Design, Germany – chair of the DAME Jury
N. Calder, independent technical marine journalist, USA
P. Hemp, ICOMIA, United Kingdom
Dr A. J. Jansen, TU Delft, the Netherlands
J.F. de Prémorel, Beneteau Groupe, France
O. Racoupeau, Berret-Racoupeau Yacht Design, France
D. Cipriani, Centrostiledesign, Italy
K. Röder, Carpe Diem Yacht Design, Germany
D. Marsh, technical marine journalist, United Kingdom